There were three nurses in a morgue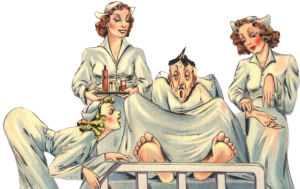 There were three nurses in a morgue.
They entered a room where they had discovered that there was a dead man laying on the bed with a hard-on.
The first nurse was very forward and said, "Wow! I have never seen that before, I can't let that go to waste".
After saying this the first nurse sat and rode it.
The 2nd nurse did the same.
The third nurse explained that she couldn't as she was on her period.
After a bit of convincing she eventually rode it.
After 3 minutes the man woke up.
The Nurses said, "What the hell you were dead a few minutes ago"
The man replied, "yeah I was but I feel great now I have had two jump starts and a blood transfusion".