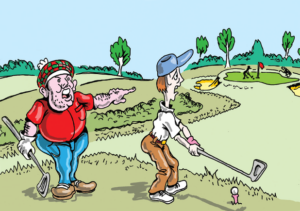 A man retires after 35 years at the same job and decides to take his first retirement vacation in Hawaii with his wife.
He is really looking forward to two weeks of sightseeing and golf.
The day they arrive, he signs up for pro golf lessons at the beautiful Pebble Beach Country Club.
After a night out with his wife, they wake refreshed and go out to the links.
The man and his wife and the golf pro begin the course and they do rather well.
After the sixth hole, they catch up to the party ahead of them and need to wait for them to finish the seventh before they can play it.
A tall man with a beard tees off and hits his ball right into the water.
His companions all hit their tee shots into the fairway.
The retired man watches as the bearded man actually walks on to the water to find his ball.
He can't believe his eyes.
To the golf pro, he blurts out, "Who does he think he is, Jesus Christ?"
The pro answers, "He is Jesus Christ.
He thinks he's Tiger Woods."