A magician is hired to perform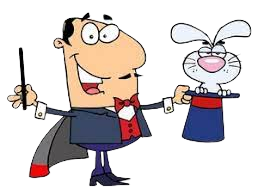 A magician is hired to perform on a luxury cruise liner.
One day when performing a show, he hears a voice from the crowd saying.
"It's a trick! The card was up to his sleeve all along!"
Startled, the magician looks around and is surprised to see the voice coming from a parrot, sitting in the front row.
Slightly put off, the magician tries to carry on but every time he tries to do an illusion, the parrot gives it away.
"It's a fake hand!"
"The rabbit was in the box!"
This goes on day after day until after a week, the magician dreads going out on stage and having to confront the parrot.
However, on the eighth night, the ship hits an iceberg and sinks.
Struggling in the icy water, the magician eventually manages to pull himself into an empty lifeboat, floating in the sea.
As he lay in the boat, tired and cold, he saw the parrot fly over and sit on the bow.
The parrot stared at the magician and the magician started back but neither spoke and together they sat in silence.
After several hours, the parrot looks at the magician and says,
"All right. I give up. What did you do with the ship?"